Tyler
I was emotional when Tyler was chosen because I finally knew my name and I felt valid as who I am.
Tyler talks about how he chose his name through a Facebook poll
I actually used Facebook to run a poll voting on my new name, as I'd originally picked 'Harley', but then the new Joker film came out and I was worried people would think I'd named myself after Harley Quinn, which I didn't!
I was pretty indecisive on which one I liked the most at the time, but Tyler was definitely one of the names I secretly hoped people would pick. Thinking about it now, the names I put on the poll were all very different from each other. Two of the other names were 'Cody' and 'Elijah'. None of them really had a big meaning behind them; quite a lot of them were from movies that I loved at the time.
I was emotional when Tyler was chosen because I finally knew my name and I felt valid as who I am. It was quite weird to put the power into other people's hands because I hadn't seen anybody who'd chosen their name the way I did, but it definitely took the pressure off.
When I came up with the name Tyler, it was after a character in a film I really liked. I guess people thought it suited me because clearly it got the most votes! I'd also read on Facebook that other people were going to Starbucks to try their name. They said it was easier that way, to try it with someone you didn't know. The idea stuck in my head and I knew I had to try it.
I was walking towards the train station, ready to go shopping with my mum and her boyfriend at the time beside me. The weather was nice, not as hot as Spain by any means, but quite warm. I was starting to feel anxious.
It was the starting point to knowing that I was okay, that I could do this.
With the Starbucks in the distance I turned to him and said, "I think I want to try my new name today." Him and my mum were so understanding, which put me at ease, and I had already come out so it wasn't exactly a shock to them.
As I ordered my drink and said my name for the first time, I was so happy the barista was so open and immediately used the right pronouns. It almost didn't matter that they spelled it 'Taylor' instead of 'Tyler'! After that I felt more comfortable with myself. It gave me confidence because there was no bad reaction; it was the starting point to knowing that I was okay, that I could do this.
I did choose my middle name – John – myself. I chose it because of my grandad who'd passed away when I was younger. He used to call me 'duck' because he couldn't always remember my name, so he'd probably still have done that after I'd changed it. But I wanted to remember him.
It's really nice to see a big company like Starbucks working with Mermaids, knowing that a company were so open to supporting trans people.
Looking back 20 years you wouldn't have something like that. Most trans people are scared of trying their name, like it's frowned upon or you'll get 'found out', so it's really positive to know you can trial your name in that space and not be scared.
Jennie
When I look at the cup I think of happiness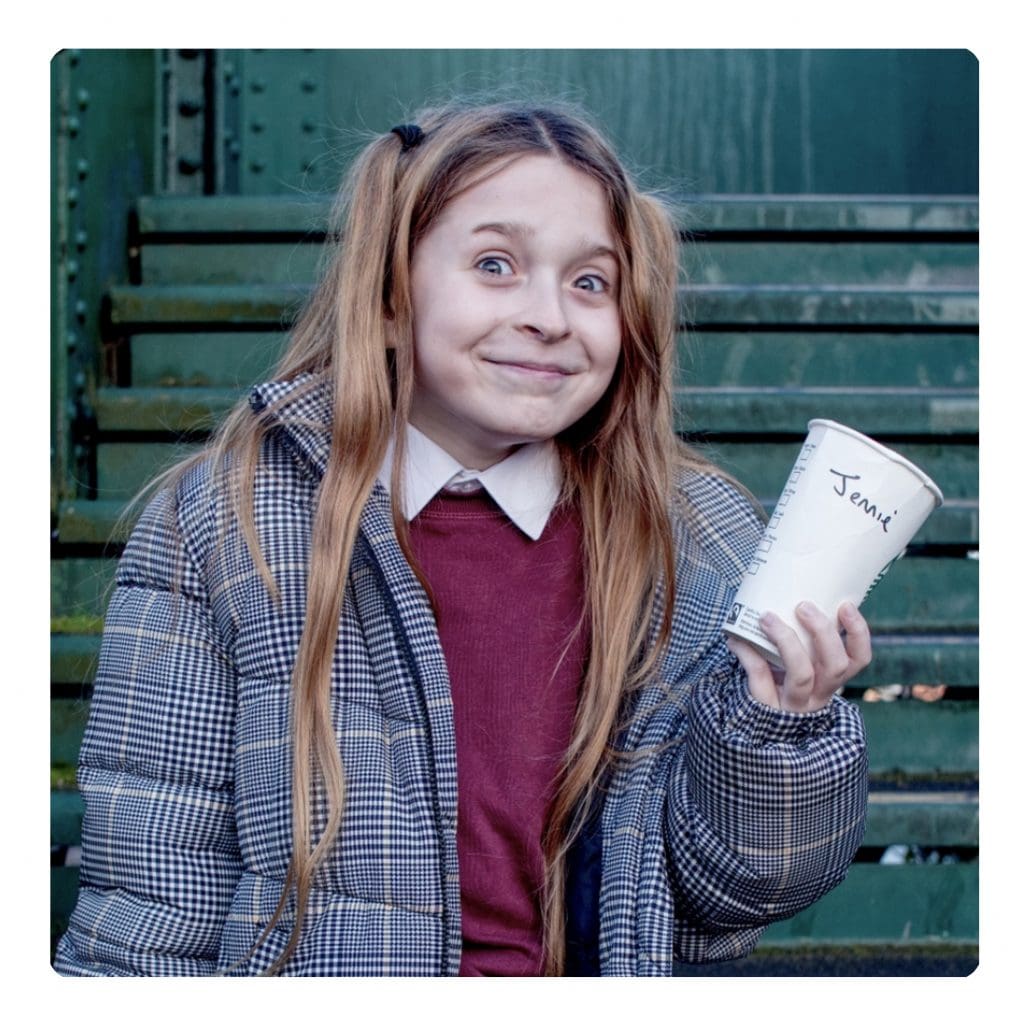 11-year-old Jennie explains why she'll never throw her coffee cup away
I remember walking into Starbucks to use my name out in public for the first time. It took a lot of confidence and building up inside. It was hard because I was scared that maybe the people I was with or strangers might say: "no that's not your name."
Actually, the lady just wrote my name and didn't say anything. They never spell my name right, but it's okay. The moment when they held up the cup and called my name I felt like something had changed. I just thought: "This is the real me now and I hope I get to stay Jennie forever and nobody says I have to go back to pretending."
I've kept the cup under my bed and I don't want to throw it away. When I look at the cup I think of the happy feeling I got when I heard the person behind the counter say my name.
The cup is a memory and that can't be thrown away whatever happens
Sometimes, when things feel hard or I feel like people don't understand, I look at the cup because it makes me feel more confident. Like, it proves I've been myself in public places before so I know I can do it again, even when I'm feeling nervous.
I do sometimes feel nervous when I meet other people and I go out with Mum and Grandma and they introduce me to friends and their children. I worry what they'll say or whether they'll know I'm trans.
Sometimes by accident, I get called the wrong name still but I forgive them for that because I know it's easy sometimes to forget. It's great that trans people like me are more accepted in modern times and like, only a few years ago people were horrible about it. I have really good friends who support me and are really good about it.
If I lost my name cup I'd be upset but actually even though it's a big thing, the cup is a memory and that can't be thrown away whatever happens.
Oscar
The person behind the counter broke into a grin and we chatted excitedly about how great the ad was.

Oscar
To the wonderful trans person who served me this morning in a train station Starbucks and chatted to me about their beginning to transition: Keep living your truth. I hope you find yourself as happy in your gender as I am after 18 months of hormone treatment. @Mermaids_Gender pic.twitter.com/vF8mrEJfzp

— Oscar (@SkeletonOscar) February 10, 2020
On a stormy morning, Oscar steps into a Starbucks and connects with another transgender person over a cookie
It's funny, but in that little moment of connection, I felt warm and happy and the freezing storm outside seemed a million miles away.
I was waiting for a train on a freezing Monday morning but the signs on the platform were flashing 'delayed' or 'cancelled'. Feeling tired and cold, I looked around for somewhere to keep warm and saw a Starbucks.
I stepped inside, rubbing my frozen fingers, and asked for a Mermaid cookie and the person behind the counter smiled at me and said "that's the second one we have sold this morning, we sold eight on Saturday." They also thanked me for buying one, explaining: "50p from every sale goes to Mermaids".
I told her I was trans myself and had been following the #WhatsYourName ad campaign. In fact, I'd even been approached by an ad' agency in the summer to test the concept for the advert.
I think it's really important to see companies willing to support a great but potentially under-the-radar cause like Mermaids and I respect the fact they included trans people so early on in the process.
The person behind the counter broke into a grin and we chatted excitedly about how great the ad was and how both of us had actually used Starbucks to test our names. They then explained that they'd only come out a year ago, and their previous employer wasn't very positive and accepting about it, but Starbucks had been "much better" about their transition. I said my workplace was great too, but shook my head, thinking about how long the process has been.
My transition has saved my life.
I'm 18 months on T (testosterone) and I first visited my doctor for a referral almost 5 years ago.
We got a bit lost in conversation before they realised they were supposed to be making my coffee. They smiled and said "of course, I need your name for the cup!" and I laughed. It's funny, but in that little moment of connection, I felt warm and happy and the freezing storm outside seemed a million miles away.
My transition has saved my life, and since beginning hormone therapy in Autumn 2018 I feel so much more confident and positive about my life. I hope the person working in that Starbucks reads this and I hope they too get to experience the same positivity and happiness I now feel. Oh, and how did I get the name, Oscar? One of my favourite jazz musicians is Oscar Peterson, and Oscar Wilde wrote my favourite book, The Picture of Dorian Grey, but as I can be quite grumpy people say it suits me because I am a lot like Oscar the Grouch from Sesame Street! I let my mum choose my middle name and she picked Edward after my grandad who I was very close to growing up. I transitioned at age 19 which was after he died, and he sadly never got to meet the real me; I like to think he'd be proud I have his name and of the man I am today.
Sonja

I thought I'd lost the real me but thanks to #WhatsYourName, I've found myself again.

Sonja
How being part of the #whatsyourname campaign helped 17-year-old Sonja to regain her confidence after a difficult year
Would it be okay? Had anyone at school seen it? Did I even care?
I'd just got off the bus and was walking to get some lunch. I was waiting for a phone call from Jake at Mermaids to say an article had been published and I felt so nervous, I couldn't stop thinking about it. I was anxious, but not a bad anxious, I was in a state of excitement and anticipation for what was about to come.
*Ring Ring* I instantly started to shake and answered the phone. "It's up," he said. "I'm sending you the link now". My legs had turned to jelly, and it was difficult to stand. Somehow, I managed to get my food and ran towards college. Would it be okay? Had anyone at school seen it? Did I even care?
Filled nerves I went through the underpass and through the turnstile and in a crazy storm of thoughts, made it to the student support block where I went straight to my Personal Tutor and told them everything. I finally sat down and because I wasn't focusing on standing, I started to take in what had happened.
My hands shaking, I opened the article. It was on the BBC news online website and already it was in the 'most read' section. The journalist, Ben Hunte had asked me about choosing my name and testing it in a Starbucks. A campaign was being launched called #WhatsYourName, which is all about trans people testing their names in Starbucks cafes.
I'd been asked to talk about trialling my own name in one of their stores and I had hesitated. It's such a personal story and my history of anxiety almost made me say 'no' but I knew it was helping to raise money for Mermaids so I agreed.
The most incredible thing about the article was just seeing my picture online, and then reading my name. It felt like the most exhilarating, incredible thing to know that thousands of complete strangers were all listening to my story and acknowledging my identity.
I was ecstatic, I was happy, I was proud.
I struggle really badly with anxiety and it had been a long time since I felt…something other than nothing. I'd been sort of empty since coming out as trans because of the many trials and tribulations I've had to face because I'm a transwoman.
I've been disowned by a lot of my family and it's never been easy for me anyway, especially socially, because I've never really had many 'friends'. For the last couple of years, I've felt incredibly isolated. I felt completely alone. It had now become even harder for me to 'fit in'.
Still, pushing myself outside of my comfort zone, to tell the story of my name has helped me discover that I am actually not alone, and that I can fit in, especially with other people in the trans community.
It felt like I had done something to help other people but, in fact, I'd also helped myself. Seeing my words printed on the BBC website made me feel as though I had a purpose, that I was needed and that I can help people by simply being me and telling my story.
The response from family and peers at college has been overwhelmingly positive and I've received so much praise for my bravery and courage. It has been amazing.
Now, after this article, I'm finally starting to feel whole again. This experience has helped me find what I had lost. My inner confidence has come flooding back and I want to thank Mermaids, Starbucks and Ben at the BBC for supporting me. Thankfully, my jelly legs have stopped for now but my sense of pride and content will stay with me forever.